Inspectors say murder-hit Frankland Prison 'improving'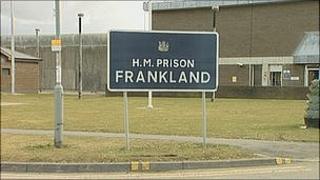 Improvements continue to be made at a County Durham jail, which has seen the murder of a prisoner and assaults on staff, inspectors have found.
Chief Inspector of Prisons Nick Hardwick said Durham's Frankland Prison was now "generally safe" after serious incidents of violence.
But Mr Hardwick said the prison, which has some of Britain's most violent men, still faced "considerable challenges".
The supervision of vulnerable prisoners was an area of concern, he said.
Child rapist Mitchell Harrison, 23, was murdered in the prison by fellow inmates Michael Parr and Nathan Mann in October 2011.
Another inmate, Kevin Thakrar, stabbed three prison guards several months earlier.
Mr Hardwick said the results of an unannounced inspection showed the high security jail had made "commendable progress" in dealing with problem issues.
'Challenging population'
He said: "This is a very good report. Frankland has had to deal with some very serious incidents in recent months.
"The prison has done this proportionately and in a way that has not derailed it or undermined its confidence.
"Overall, the outcomes for prisoners at this prison are reasonably good, and some of the most challenging prisoners in the system are well managed and cared for."
Frankland is the largest of five high security dispersal prisons in England and Wales, and holds more than 800 of the most dangerous offenders in the prison system.
Mr Hardwick said work still needed to be done to improve the supervision of vulnerable prisoners and to ensure all prisoners were provided with regular activities.
Michael Spurr, chief executive officer of the National Offender Management Service (NOMS), said: "I am pleased that the inspection found that, despite its challenging and complex population, the prison continues to provide a decent, stable and safe environment.‪
"‪Work will continue to address any concerns raised in the report."