Stannington Sanatorium: Memories sought to unearth secrets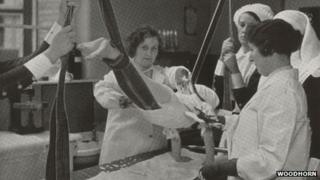 Researchers are appealing for help to capture the memories of a Northumberland sanatorium which helped treat those suffering from tuberculosis (TB) in the first half of the 20th Century.
Stannington Sanatorium was the first purpose-built children's TB sanatorium in the country and opened in 1907.
Treating 11,000 people, it was a place for malnourished children to get fresh air, exercise and good nutrition.
Now former patients and staff are being sought to help research into the sanatorium and the treatment of TB before the use of antibiotics.
Tuberculosis is a bacterial infection which mainly affects the lungs.
Also known as consumption, it can also affect the bones and nervous system.
In these cases, traction would be used to apply pressure to the deformed bones and patients would often be strapped into supports and body casts for weeks or even months.
Industrial environment
Poverty was recognised as a major factor contributing to TB and at Stannington children from the cramped housing and industrial environment of Tyneside and Northumberland were able to escape.
A major part of the treatment was to give the patients a good diet, fresh air and exercise, as well as using some of the latest medical techniques of the time.
Staff from Northumberland Archives discovered a collection of documents and hospital records from Stannington Sanatorium about 30 years ago.
Now the museum and Northumbria Healthcare NHS Foundation Trust want to hear from former patients and members of staff who were treated or employed at Stannington before it closed in 1948 to help tell the story of the sanatorium.
Sue Wood, head of collections for Northumberland Archives, said: "The work we are carrying out will help us to provide a really interesting and useful resource for historians and researchers.
"By talking to individuals who have personal experience of the pre-antibiotic era of tuberculosis treatment, we will be gathering a very private view of life in the hospital.
"They will be able to tell us what the routine was like, how the treatment affected them, and what they felt being removed from their families, homes and communities for months on end.
"Their recollections will help us all to gain a fascinating insight into this killer disease in the early 20th century and its treatment."