Ashleigh Ewing's killer 'should have been detained'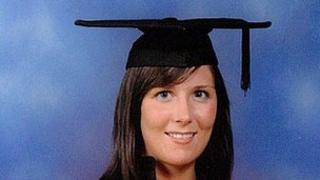 A man with paranoid schizophrenia who stabbed a charity worker to death "should not have been in the community", a report has found.
Ashleigh Ewing, 22, was stabbed 39 times when she visited the home of Ronald Dixon in Newcastle in 2006.
Dixon was detained indefinitely in 2007 after admitting her manslaughter.
The independent report also said Ms Ewing should not have been sent alone to visit Dixon, who had previously threatened to kill the Queen.
At the inquest into Ms Ewing's death, coroner David Mitford criticised her employers, Mental Health Matters.
He said the risk he posed was not properly assessed, which has been backed up in the new 172-page report, commissioned by NHS Newcastle North and East Clinical Commissioning Group.
Secure hospital
It concluded: "Given Ronald Dixon's deterioration in his presentation and his relapse, he could and should been detained under the Mental Health Act 1983 and accordingly no longer in the community on 19 May 2006."
Dixon, then aged 35, had recently been released from a secure hospital after making the threats to kill the Queen.
The inquest heard that at the time psychology graduate Ms Ewing was killed he had stopped taking his anti-psychotic medication and was having money worries and trouble with alcohol.
However, Mental Health Matters had not carried out a risk assessment on him for three years, and sent Ms Ewing alone to his home to deliver a letter.
After his trial, the Sunderland-based charity was ordered to pay £50,000 for failing to properly protect her.
'Patience and dignity'
The new report into Dixon's care found it was impossible to conclude with "absolute certainty" the "vicious attack could have been predicted or avoided".
But it said in the five weeks before Ms Ewing's death, an assessment of Dixon would have found he had "deteriorated" and he should have been detained under the Mental Health Act.
Moira Angel, director of nursing and quality for NHS England in Cumbria, Northumberland, Tyne and Wear said: "The circumstances surrounding the death of Ashleigh Ewing are extremely upsetting.
"Our deepest sympathies are with her family, who have shown much patience and dignity during the course of this investigation.
"The final report explains in detail where the care provided to Ronald Dixon could and should have been better."