Last chance patients in cancer drug trial in Newcastle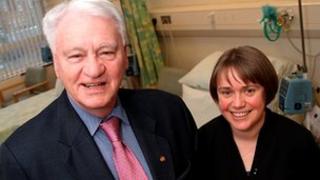 A cancer drug which could offer hope to patients who have run out of options is being tested on patients in Newcastle.
It is hoped the drug, called AZD3965, will eventually be used to tackle all types of the disease, including breast and prostate cancer.
Trials involving 63 patients are under way at the Northern Institute of Cancer Research at Newcastle University.
The drug has been used on animals, but this is the first time it has been tested on patients.
'It's heartbreaking'
They have all stopped responding to other treatments.
The drug, developed through Cancer Research UK's Clinical Development Partnerships (CDP), starves cancer cells of the sugars they need to grow and develop.
Professor Ruth Plummer, a Cancer Research UK clinician at the institute who treated football legend Sir Bobby Robson, is helping to run the trial.
She said: "I'm excited to open this trial of a completely new type of cancer treatment.
"It's heartbreaking for patients when the drugs have stopped working and they have run out of options.
"We hope new drugs will be able to save their lives in the future."