Gateshead conference urges revival of regional banks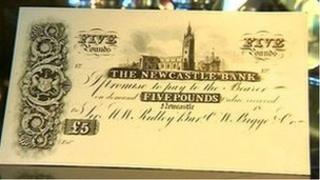 With its smart decor and cocktail menu, the Mile Castle pub in Newcastle looks like a place for a party rather than sorting out your finances.
But it used to be the home of the Newcastle and Durham Savings Bank, one of a number of regional banks that have now been swallowed up by other names.
A conference in Gateshead is looking at the future of local banks and the idea they would lend to people in their immediate area only.
Conservative MP for Hexham Guy Opperman, who chaired the conference, said: "Local banks increase the lending for businesses.
"The big banks in London aren't interested in us. We need to get local people organised with local lending."
Financial crisis
In Germany, the Sparkassen banks have a civic duty to promote regional growth and about 70% of lending there is now done through local banks.
Thomas Keidel, head of Deutscher Sparkassen, said when the financial crisis came local banks stayed loyal to their customers.
"The savings banks stayed with their small business customers even when they didn't know how long the economic crisis would last," he said.
"They couldn't move abroad, they couldn't move to the next place."
UK Treasury Minister Greg Clark said the government had made it simpler to set up local banks.
"If you are setting up something new it should be straightforward. You should have help with regulatory hurdles and they should be lower for a bank that's smaller," he said.
See more on this story on Sunday Politics at 11:00 BST on 9 June on BBC1.