Listed Byker Wall gets facelift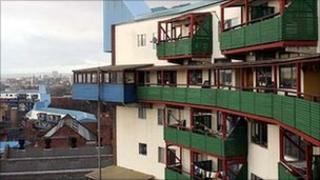 A listed housing estate is to be given a multi-million pound facelift.
The external overhaul of Newcastle's Byker Wall includes a new roof, windows and doors, and improvements to the communal stairwell.
The trust that runs the social housing site said the £7m programme would also make its flats and maisonettes more energy efficient.
In addition, there are hopes it will result in employment and training opportunities for young people.
The work is part of the Byker Community Trust's £24.5m planned investment for the Grade II-listed structure over the next five years.
Jill Haley, the trust's chief executive, said: "The refurbishment is an enormously important element of our planned investment programme.
"It will make a real difference to the people living within the wall, as well as the many who like to admire its fantastic design from a distance."