Legacy helps fund new Blyth lifeboat station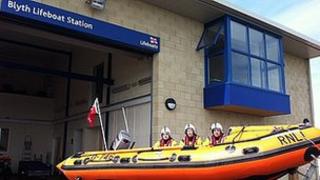 A Northumberland lifeboat crew have moved into a new purpose-built station.
The £700,000 building replaces Blyth's old RNLI station and provides more up-to-date facilities for the volunteers.
The station was largely funded by a legacy from Daphne Sharpe, from Ilkley, West Yorkshire, who was a long-time supporter of the RNLI and died in 2003.
She specified that money left to the charity in her will should be used to support the RNLI lifeboat service on the north-east coast.
The two-storey building includes a crew training and changing facilities, workshop and space to house Blyth's D class RNLI inshore lifeboat.
Gareth Wilson, the RNLI's divisional operations manager in the north of England, said: "We have a crew of very dedicated RNLI volunteers in Blyth and in return for their commitment to saving lives at sea, we have a duty to provide them with appropriate facilities to ensure they can carry out their role as effectively as possible.
"The new station brings everything they need under one roof, with better operational facilities and improved housing for the lifeboat."
The previous station dated from the 1920s and was in poor condition.
There has been a lifeboat station in the town for almost 150 years.