Berwick maternity unit to reopen part time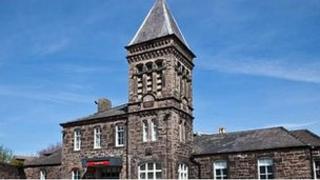 Services are to resume at a maternity unit in Northumberland after it was suspended due to low birth rates.
An average of one baby a month was being born at Berwick, and health chiefs felt it was too few for midwives to practise their skills regularly.
Following a review, from Monday, it will be open for nine hours every weekday and five hours on weekend days.
There will be a 24-hour on-call service for low-risk women who want to deliver at the unit or at home.
'Safe model'
The closure in August sparked protests because the closest consultant-led unit is in Scotland, 40 miles (64km) away.
Northumberland Clinical Commissioning Group said it had now introduced a "safe and sustainable model of round-the-clock maternity care".
All regular antenatal and postnatal clinics for both low and high-risk women will now continue in Berwick, and women who give birth there will not be discharged until they are well enough to go home.
Midwives at the unit will work at Wansbeck General Hospital on a rotational basis to ensure they are able to regularly practise their full range of skills and get experience of different types of deliveries.