County Durham footpath reopens after flood damage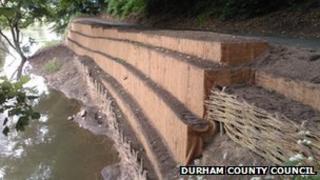 Repairs to a County Durham riverside footpath which collapsed after flooding have been completed.
The path, which runs from Durham City to Maiden Castle and Shincliffe, was closed for seven weeks after flood damage caused the bank to collapse.
More than 500 tonnes of rock-filled cages have now been installed to reinforce the riverbank.
A spokesman for Durham County Council said the work was "vital" to restore the natural environment.
The cages have been hidden beneath natural fibre matting to preserve the environment.
Work on the opposite side of the river at Pelaw Woods where the same flooding caused a landslip is still taking place.
The council said a survey was being carried out at the site and it is likely a "major" engineering scheme will be required..