Fumes alert forces RAF jet to land at Newcastle Airport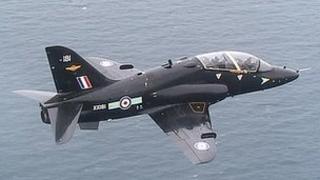 An RAF jet was forced into an emergency landing at Newcastle Airport after fumes filled the cockpit.
Two Hawk aircraft, from RAF Leeming in North Yorkshire, were diverted to the airport at about 11:00 BST after one of the cockpits began to fill with smoke.
The jet landed safely and the pilot was taken to hospital by helicopter for precautionary checks.
An RAF spokesman blamed the incident on "technical issues" and stressed no-one on the ground had been at risk.
Newcastle Airport said there had not been any disruption to commercial flights.
The Hawk aircraft is the RAF's advanced trainer and has been used by the Red Arrows display team since 1979.