Tyne and Wear shipyard archive get United Nations seal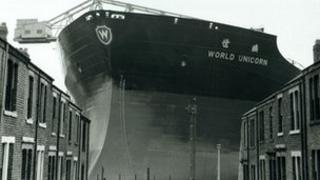 A collection documenting 200 years of North East shipbuilding has gained global recognition.
The Tyne and Wear Shipyards Collection at Tyne and Wear Archives has been included on the UNESCO Memory of the World Register.
This is a global online catalogue created to promote heritage across the world.
Just 11 UK items have been chosen - including the Domesday Book and the Churchill Archives.
All have been chosen from across the UK's libraries, archives and museums and include Hitchcock's Silent Movies Archive.
The Tyne and Wear collection includes, plans, photographs and books signed by visiting dignitaries attending ship launches.
Councillor Ged Bell, former shipyard worker and Chairman of the Tyne and Wear Archives and Museums Joint Committee, said: "The rivers Tyne and Wear contributed massively to world shipbuilding and marine engineering, with many innovations being developed here as well as countless fine ships being built.
"As someone who started his working life in Swan Hunter's shipyard I have a strong personal connection with the industry and am particularly pleased at the national recognition being given to this important collection."