Raoul Moat: Inquest for victim Chris Brown to be held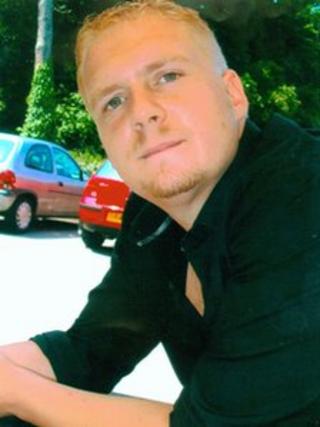 A full inquest into the death of a victim of gunman Raoul Moat is to be held later this year, a coroner has ruled.
Chris Brown, 29, was shot by Moat in July 2010 in Birtley, Gateshead, hours after being released from prison.
Moat later shot himself after a stand-off with police in Northumberland.
South Tyneside coroner Terence Carney said it was his duty to allow "public scrutiny" of all the circumstances leading to Mr Brown's death.
Moat also shot and injured Mr Brown's girlfriend, Sam Stobbart, who was also Moat's former partner.
He went on to shoot and blind PC David Rathband, before taking his own life in the village of Rothbury, after a week on the run.
'Number of errors'
The decision, at a resumed hearing, was questioned by both Northumbria Police and Durham Prison which argued that nothing new would be learned from a full inquest.
But the family of Chris Brown - who have waited 18 months to be granted legal aid - argued they had a right to publically question officials.
The inquest was told that information from Durham Prison, claiming Moat had made threats to kill Sam Stobbart and Chris Brown, was not passed on to the police until a few hours before the pair were shot and that information did not name Chris Brown - despite the fact prison staff had heard specific threats.
The inquest was told an internal report by the prison detailed "a number of errors" which contributed to a delay in passing information onto the police.
The prison service and the police told the coroner that procedures had since been tightened.
The coroner, said Mr Brown's family had a right to know the answers of how their son came to his death despite a previous inquest into Moat's death and a trial in which Moat's accomplices were jailed.
"The question that must haunt their minds is that events could have been changed and it is my duty to allow them to explore that question," said Mr Carney.
The full inquest is expected to be held later this year.