Sunderland's 'tallest bridge' plan scrapped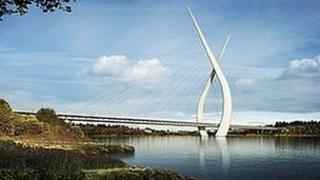 Plans to build England's tallest bridge across the River Wear in Sunderland have been scrapped.
The bridge, designed by architect Stephen Spence, would have been 1,102ft (336m) long and 590ft (180m) high.
The crossing was to have linked Wessington Way on the north side of the river to Pallion New Road on the south.
But Sunderland City Council said the landmark structure could not be built within the £118m budget and a "simplified design" was being explored.
Council leader Paul Watson said: "When the landmark design was first suggested, the city and the UK economy were in a very different place.
"Given the current economic climate we will not be seeking further funding, instead we must review our plans and work within our means."
The planned bridge would have consisted of two curving steel towers and was due to have been completed in 2015.
This story was amended on 10 July to reflect clarification over the change in plans.