Sage Gateshead scraps conference centre plan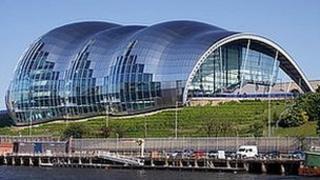 Plans to build a £30m conference centre adjoining the Sage Gateshead arts complex have been scrapped after being deemed to be economically unviable.
Gateshead Council and the North Music Trust were due to bid for a £10m grant from Arts Council England towards building the 3,000 sq metre centre.
But an in-house study has revealed that borrowing and construction costs would outweigh any future benefits.
Council leader Mick Henry said it "would not be prudent" to proceed.
The Sage has already hosted conferences for organisations including the Labour Party and several trades unions and was keen to create a dedicated conference facility.
Mr Henry said existing plans, however, were "unrealistic".
'Very disappointed'
He added: "It was important that we thoroughly tested the deliverability of such a major and complex project.
"We have to be realistic, that in the current economic climate it would not be prudent to go ahead with this project at this time."
Anthony Sargent, general director of Sage Gateshead said: "We are all very disappointed that the current economic conditions have prevented the realisation of this project at this time.
"These new facilities would have been a tremendous boost to Sage Gateshead, building on our reputation and success we've already achieved."
Sarah Maxfield, Arts Council England's area director for the North, said: "We appreciate this was a difficult decision for Gateshead Council and North Music Trust to make, but we give them credit for recognising that the conditions are not right for this major development in the current climate."