Newcastle fire hydrants broken to cool down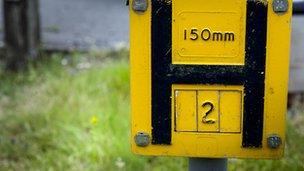 Sweaty vandals have been breaking fire hydrants and spraying themselves with water during the heatwave.
Likening the scenes to New York, Northumbria Police said lives were being put at risk but could not say how many hydrants had been targeted.
Earlier this month a 19-year-old man was arrested after a hydrant was opened on Belgrave Parade in Elswick.
Newcastle West Police Inspector Mark Farrimond said lives were being put at risk by the practice.
He said: "It may all seem like fun and games, but fire hydrants are there... to save lives.
"As well as affecting water supplies and causing local flooding, opening up such hydrants causes real problems for firefighters."
Tyne and Wear Fire and Rescue Service group manager Dave Brown said: "Our firefighters need access to the hydrants to put out fires as our appliances can only carry a limited amount of water.
"If they do not have access to a hydrant in the event of a fire, there is no doubt that people could lose their lives."
Related Internet Links
The BBC is not responsible for the content of external sites.