County Durham girl rescued from dried-out pond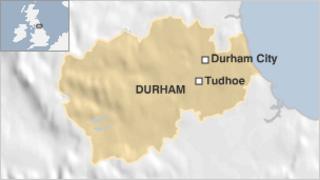 Firefighters rescued a teenaged girl after she got stuck in chest-high mud while walking across a dried-out pond.
The 17-year-old was with two male friends when she got into difficulties near Tudhoe in County Durham on Thursday evening.
Firefighters used tree roots to secure themselves while they gently rocked the girl backwards and forwards to free her from the mud.
She was examined by paramedics at the scene and later allowed home.
Durham and Darlington Fire and Rescue Service urged walkers to use a stick when walking through dried-out areas to check for mud.
Crew manager Andrew Spence said: "It was a mixture between potter's clay and thick, glue-type mud.
"She was getting a bit flustered and, as she moved about and was slowly sinking further in."
After she was pulled free, she was washed down with a low pressure hose before assessed by paramedics.
Mr Spence added: "It will have been terrifying for her. She had two friends with her and they were covered in mud from trying to get her out."