Probe after woman 'dragged by train' in Newcastle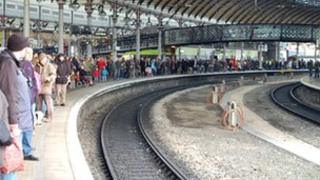 Officers from the Rail Accident Investigation Branch (RAIB) are to examine how a woman was dragged a short distance by a train in Newcastle.
The RAIB said doors on the train closed on the woman's right wrist, trapping it as she tried to board the 17:02 Transpennine Express train on 5 June.
The train started to leave Newcastle Central Station before the emergency brakes were applied a short time later.
The RAIB said it will publish a report at the conclusion of its investigation.
The research will examine the sequence of events leading up to the incident, including the dispatch of the train and how the presence of obstructions that are trapped in doors are detected.
It will also consider how the risk associated with trains departing from the tightly curved platform was assessed and how the episode was reported and investigated by First Transpennine Express.
The incident, that saw the woman forced to walk and jog alongside the train, was not reported to the RAIB until 3 July.
It added the passenger remained on her feet on platform 10 but was shaken and suffered soft tissue damage to her wrist.