River Wear deaths: Girl died trying to save friend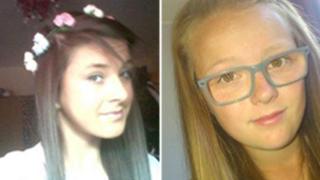 One of two teenage girls who died in the River Wear only went into the water to try to rescue her friend, Northumbria Police have said.
Tonibeth Purvis, 15, from Barmston, tried to help Chloe Fowler, 14, from Shiney Row, after she got into difficulty near a viaduct in Fatfield, Washington, on Tuesday afternoon.
Both girls were swept away and their bodies discovered later.
Chloe's family said they were "devastated".
In a statement they thanked people who had tried to save the girls.
Police said inquiries surrounding the deaths were continuing.
'Completely distraught'
Onlookers said they believed the girls had jumped into the river for "fun" and to "keep cool".
But Northumbria Police said it had since been established Tonibeth had not jumped but went in to try to rescue her younger friend.
The river was still tidal at the point where the girls went missing and there was a lot of debris and foliage in the water, the force said.
Supt Alan Veitch said: "This is an absolute tragedy and our deepest sympathies are with the families of the two girls at what must be a devastating time for them.
"They are obviously completely distraught at what has happened and we're doing everything possible to support them at this time.
"At this stage we believe a group of friends had been at the riverside and two went into the water and the others tried to help, along with members of the public."
'Sobbed my heart out'
About 100 emergency services staff and members of the public were involved in the search, which took about six hours.
The family of Chloe Fowler said in a statement: "Chloe was a beautiful, kind and caring girl and we as a family are devastated by what has happened.
"We would like to thank everyone involved in helping us to look for the girls."
Joss Both, 14, who was in Chloe's class at Oxclose Community Academy, said: "She was absolutely lovely, always smiling and laughing, she didn't have a bad bone in her body.
"She was so funny as well, she had a wicked sense of humour... she always made you giggle.
"I am absolutely gutted that she has gone. I sobbed my heart out last night."
A statement issued for the school by Sunderland City Council said: "Chloe was a popular pupil who had many friends in school.
"She was determined to succeed in everything she set her mind to and she will be sadly missed by staff and pupils alike."
'Sense of loss'
The head teacher of Washington School paid tribute to Tonibeth Purvis.
John Hallworth said: "Her teachers and pastoral staff speak of a quiet and caring young lady who had a most promising future and who was looking forward to achieving a broad suite of qualifications.
"Tonibeth was a lovely girl and a valued member of our school community.
"There is a very palpable sense of loss at school this morning."
Tom Mullarkey, from the Royal Society for the Prevention of Accidents, warned against the danger of going into fast-flowing rivers.
He said: "The first thing you do when you go into cold water head first is you breathe out, its just a natural response, and the next thing you do is breathe in water."
"Leave fast-flowing rivers well alone.
"Ideally, go to a place that is supervised, but if not, go to a place you've recced thoroughly, and you know is going to be safe and you'll be able to go out if you get into difficulties."