Northumberland prison second to be privatised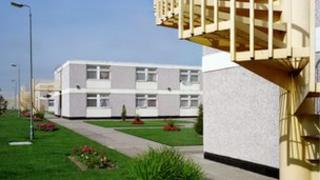 A Northumberland prison will be the second in the UK to be privatised when management is transferred in December.
HMP Northumberland in Acklington, which houses over 1,300 male prisoners, will be managed by Sodexo Justice Services.
The firm said the 15-year contract, awarded by the Ministry of Justice, was worth an estimated £250m.
National Offender Management Service director Ian Blakeman said Sodexo had produced a "compelling bid" to run the prison.
"We are confident that under their management the prison will go from strength to strength and, ultimately, deliver better outcomes for the public while also generating savings of £129.8m over the lifetime of the contract," he added.
Other firms bidding to run the prison were G4S, HMPS, MTC/Amey and Serco.
'New initiatives'
Private security companies G4S and Serco face investigation into whether they were overpaid for contracts to electronically tag criminals, after Ministry of Justice officials identified potential "billing" issues.
Sodexo Justice Services operates one prison in Scotland and three in England.
It is part of the French multinational Sodexo Group, which provides services including catering, cleaning and security.
Managing director Tony Leech said: "We will work closely with our new colleagues at the prison to build on what has already been achieved and introduce new initiatives and innovation.
"Our vision is to develop it into a working prison, providing meaningful work for prisoners which will lead to enhanced employment opportunities on their release."
HMP Northumberland, formed after the merger of Castington and Acklington jails, was criticised in November after inspectors found a third of inmates spent days in their cells "doing nothing".
The first jail to be transferred from public to private operation was HMP Birmingham, which is run by G4S.
Fourteen other prisons in England and Wales have been privately managed since they were opened.