'Thunder Thursday' floods cost Newcastle Council £8m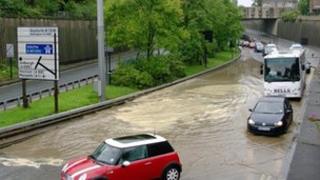 Two hours of torrential rain in the North East dubbed "Thunder Thursday" caused £8m of damage to homes, roads and businesses, a report has found.
Newcastle City Council said 50mm of rain fell - a month's worth - on 28 June 2012 having a "devastating impact" and flooding 500 homes in the city.
The report, based on a survey of 3,000 residents, found that one in five householders affected were not insured.
Among the recommendations are a review of gully cleaning in the city.
The study also proposed a volunteer flood warden scheme.
The local authority is currently spending £3m on strengthening city flood defences.
Damage caused by further downpours on 5 and 6 of August were also highlighted.
The floods hit shops, homes, schools and roads, with many cars ending up stranded and floating in water.
The majority of homes affected were flooded within just one hour and for two-thirds of households it was the first time their homes had been waterlogged, the study found.
'Take responsibility'
The purpose of the survey, carried out last July and August, was to gauge the geographical spread of flooding across the city and its impact.
The council is also currently reviewing how it and other agencies coped with the flooding. A report is due to be published in October.
Deputy cabinet member for neighbourhoods, councillor Nigel Todd, said: "Flooding is a natural occurrence. We cannot prevent it entirely, but a lot can be done to minimise the risk of flooding and reduce its devastating impact.
"Public buildings like schools were flooded and had to close while repairs were carried out. This all demonstrates just how exceptional the weather in June [2012] was."
He added: "I think the council and the emergency services did a good job in very difficult circumstances - but there is always room for improvement which is what our scrutiny review is looking into.
"The council can't do everything so it's very important that people realise they must take responsibility for protecting their homes."