Sunderland International Airshow celebrates 25th anniversary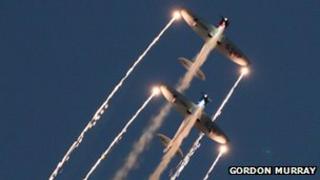 The Sunderland International Airshow has taken to the skies for its 25th anniversary.
Tens of thousands are expected to attend one of the largest free airshows in Europe on the Seaburn and Roker seafronts over the weekend.
The event started on Friday evening with fireworks and displays from RAF's Typhoon fighter aircraft and acrobatic team and the SWIP Twister team.
Other weekend highlights include wing-walkers and the Red Arrows.
As well as displays from the sky, a funfair, live entertainment and activities will be along the seafront until Sunday 28 July.
Sunderland councillor John Kelly, said: "In this, the 25th year of the airshow I'm very pleased to say that there are several favourites returning to see us and also some new additions to the flying programme.
"Our programme will see displays of classic fighters, hi-tech helicopters, aerobatic trainers, historic aircraft, wing-walkers, a front line fast-jet and now a huge cold-war bomber flying over Sunderland's seafront."
War veteran
A special highlight of the weekend will be for 96-year-old Lance Robson from Hartburn, Nothumberland.
The World War Two veteran is reliving his time as an RAF pilot by taking to the skies in a Catalina flying boat for the first time in 70 years.
He said: "I can quite thrilled about the idea of going back into the aircraft.
"I spent five years on Catalinas in the Shetlands."
Mr Robson flew with 190 and 210 squadrons as a coastal command navigator on Catalina's searching for German U-boats.
On Sunday, crowds can see a special appearance from the Vulcan, which was designed to carry nuclear weapons during the Cold War.
A park and ride service is in operation over the weekend.