Peter McMahon death: Two guilty of freezer body murder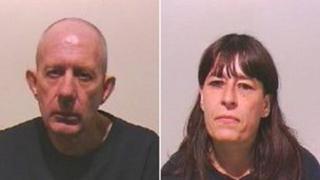 Two people have been found guilty of murdering a pensioner whose body they dumped in a freezer before plundering his bank account.
Peter McMahon, 68, was found dead in the freezer in a flat where one of the killers lived in Elswick, Newcastle.
Sharon Swinhoe, 44, of Crawford Terrace, Newcastle, and Joseph Collins, 54, of the Sycamores, Elswick, had denied murder at Newcastle Crown Court.
Ronald Douglas, 77, of Gateshead, was cleared of manslaughter.
He had previously admitted perverting the course of justice. Swinhoe and Collins were both also convicted of the same charge.
All three will be sentenced on Friday.
Mr McMahon, a former civil servant, was last seen alive on 18 October last year when he took a taxi to the home of Swinhoe, with whom he had been having a relationship.
His body was found six weeks later in December in the chest freezer in Collins's flat.
'Cruel and calculated'
A post-mortem examination revealed he had suffered a number of injuries, including gouging to the eyes.
Det Ch Insp Paul Young from Northumbria Police, said: "Peter McMahon was a decent, hard-working man who was looking forward to becoming a grandfather.
"Swinhoe and Collins targeted him for financial gain, preying on his generosity and then plundering his bank accounts after his death.
"Mr McMahon believed they were his friends, but they brutally murdered him and then conspired with Ronald Douglas to cover up their crime by hiding the body and denying responsibility.
"I welcome these verdicts and hope that it will bring some consolation to Mr McMahon's family to know that justice has been done today."
His family said in a statement: "It is particularly tragic that he not only had his life taken from him, but that these people showed utter disrespect for it afterwards.
"We still can't believe that anybody could be so cruel, calculated and cold hearted against our dad.
"His generosity and good nature were taken advantage of, and he did not deserve for his life to be cut short in this way."