Sunderland International Airshow: Parking warning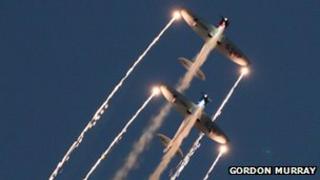 Visitors to the final day of the Sunderland International Airshow have been warned that the wet weather overnight has affected parking arrangements.
Some of the park and ride facilities have closed, and there is no sea front parking, as a result of standing water.
Motorists are advised to park at the Stadium of Light or Sunderland Enterprise Park.
Event highlights are expected to include a display by wing-walkers.
There will also be a special appearance from a Vulcan, designed to carry nuclear weapons during the Cold War.