Tyne and Wear Metro upgrade on airport section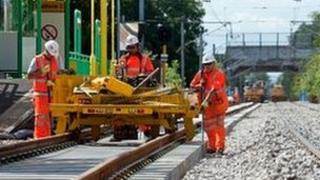 The stretch of the Tyne and Wear Metro running to the airport is to close throughout August for an upgrade.
Nexus, which owns and manages the system, has described the work as the biggest and most complex modernisation projects in its history.
The line will be shut between Haymarket, the airport and Four Lane Ends from 4 to 30 August, as part of a £385m revamp programme.
Replacement buses will run, and Nexus apologised for any inconvenience.
Track will be replaced and stations refurbished on the section which carries 30,000 passengers each day.
Bernard Garner, director general of Nexus, said: "Closing the busiest section of the Metro system for so long does mean upheaval, but it is vital so that we can replace a key section of track in as short a time as possible.
"It will mean we can deliver a high quality service for the next 50 years."