Lindisfarne Gospels Durham exhibition attracts 30,000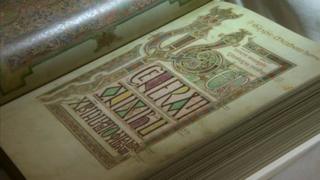 An exhibition offering the opportunity to see the Lindisfarne Gospels in Durham has attracted more than 30,000 visitors during its first month.
The Durham University exhibition offers a rare opportunity to see the 1,300-year-old gospels outside London.
Organisers are expecting another 50,000 visitors through the door by the end of its three-month stay.
Dr Keith Bartlett, programme director, said: "Over 30,000 visitors from 22 countries have viewed the exhibition."
He added: "There are over 1,000 comments in the visitor book with the words wonderful, excellent, fantastic, interesting and amazing appearing most frequently."
Ticket sales have totalled about 46,000 for the Palace Green Library so far and remain "steady" after the exhibition's initial opening.
The exhibition is attracting people from all over the world to see it in the north-east of England.
The exhibition opened on 1 July and runs every day until the end of September and is open from 10:00 to 22:00 with the last admissions at 21:00.