Chillingham wild cattle: Rare breed number surpass 100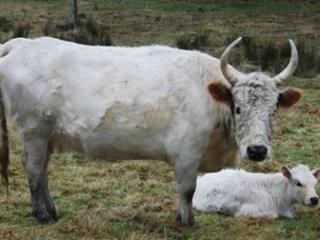 An ancient breed of cattle with red ears which was on the verge of dying out is thriving again.
Wild Chillingham Cattle, which have white skin and red ears, have lived for more than 800 years near Wooler, in Northumberland.
In the 1980s their numbers dipped to just 35.
But now numbers of the breed - which is under the protection of the Wild Cattle Association - have risen to 101, conservationists said.
The cattle have roamed free in the 650 acre Chillingham Castle park, since about 1240.
Association chairman, Philip Deakin, said: "Around 10 years ago the association was able to end a lease which had allowed sheep to graze alongside the cattle, and more food has led to a strong revival in the population.
"Since then they have gone into winter much fatter and in better condition, which has allowed them to multiply."
Scottish raiders
The cattle breed all year round and their numbers are only restricted by the size of their territory.
The origins of the Chillingham Cattle, which have not been crossed with other breeds, remains uncertain.
Mr Deakin added: "We don't know quite where they came from - some people think they were medieval cattle that escaped, but I believe they go back further than that because they always breed 'true'.
"They are white with the red inner ears and they never breed any other way.
"Because of that they are genetically separate from domestic cattle."
One theory for their long history is that because they were not domesticated, they were not easily stolen by Scottish raiders.