Tonibeth Purvis: Funeral of 'river hero' takes place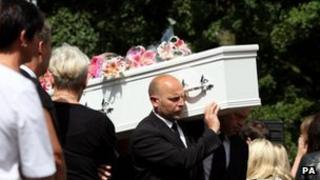 The funeral has taken place of a teenager who died trying to save her friend from the River Wear in Washington.
Tonibeth Purvis, 15, from Barmston, drowned along with Chloe Fowler, 14, near Fatfield, on 23 July.
Mourners at Holy Trinity Church included girls wearing T-shirts bearing her picture and the words "RIP Tonibeth Purvis, born a princess, died a hero".
Chloe's funeral took place at Sunderland Crematorium on Thursday.
'Tragic accident'
David Glover, the rector officiating at Tonibeth's funeral, paid tribute to the "fun-loving, happy-go-lucky, cheeky and lovely" girl.
He said: "One thing that has profoundly moved me in this is that Tonibeth's parents want it made clear that what happened was just an accident.
"No-one was to blame, no-one should live with any guilt about this.
"This was just a tragic accident.
"But if there was any consolation for you it may be in the fact that Tonibeth died trying to help her friend.
"She died a hero but, most importantly, she died a friend."
More than 100 emergency services staff and members of the public were involved in the search for the pair on the night they died.