Cricket club bans grandmother over 'verbal abuse'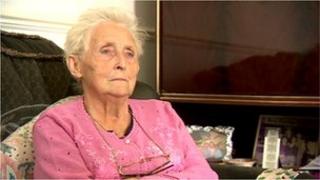 An 81-year-old woman is seeking legal advice after being suspended from her local cricket club over allegations about her behaviour.
Margaret Burn is accused of being verbally abusive by officials at Marsden Cricket Club in South Shields.
A spokesperson for the club said the pensioner from Westoe had been banned after "several complaints".
Mrs Burn, a supporter of the club for 60 years, denies the allegations.
'All lies'
She said: "I haven't said any of these things. I haven't sworn at any of the kids. I don't swear and I haven't sworn at anybody.
"I'm supposed to have said 'If that junior member looks at me once more I'll knock his head off', this sort of thing, which is all lies."
Malcolm Mann, a club committee member, said: "We've had several complaints, by not only junior members of the club, but by senior social members as well with regards to the way Margaret has spoken to them.
"We have spoken to Margaret on numerous occasions with regards to this incident. We've asked her to come and see us, but she has refused.
"We shouldn't be banning anyone from the club, but we have protocols to adhere to. I'm devastated it's got this far."