Sting 'compelled' to pen Tyne shipyard musical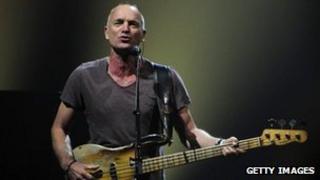 Sting has spoken of how he wants people in his native Tyneside to "feel proud" of his first stage musical - about shipbuilding in the North East.
The Last Ship is due to debut on Broadway later this year, with an album of the same name out in September.
The 61-year-old pop legend, born Gordon Sumner in Wallsend, has collaborated with Skyfall screenwriter John Logan.
Sting said the story of a group of redundant shipbuilders on the Tyne was something he felt "compelled" to write.
In videos on his website, the former Police frontman explained to fans that he wanted to tell his own story through the lives of other people.
The stage show is set to be directed by Joe Mantello, the actor and director best known for Wicked.
'Symbolic gesture'
The musician, who has not released an album of original material for 10 years, said: "It's about shipyard workers being laid off and the idea of fathers and sons struggling and reconciling.
"A local priest decides to help them and asks them to build a ship for themselves and then sail off into the world.
"It's a symbolic gesture and there is something about that symbolism which is incredibly powerful."
Sting has recruited a host of North East musicians for the project, including Northumbrian piper Kathryn Tickell, folk group The Unthanks, and actor-turned singer Jimmy Nail.
Sting said: "The idea of this album is to bring back the importance of work. I think individuals need that sense and communities need it.
"It's much more than just a record, it's something I was compelled to do. It's a story I need to tell and a story I want to tell.
"I'm proud of who I am and I'm proud of where I come from and I want the people of Wallsend to feel proud of this thing."
At its peak the Tyne built 25% of the world's ships, and at one stage the UK was the world's largest shipbuilding nation.
Among the ships built on the Tyne was the Cunard liner Mauretania and HMS Ark Royal.
The last ship to be completed on the river was the Largs Bay in 2006.
After a brief spell as a schoolteacher, Sting formed The Police in 1977.
Between 1978 and 1983, the band enjoyed a string of hits including Message in a Bottle and Every Breath You Take.
He went on to have a highly successful solo career and has also acted in several films.