Pamela Jackson: Grandmother 'buried with flowers' court hears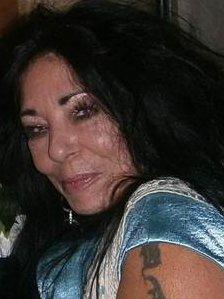 A man accused of murdering a County Durham grandmother "buried her with flowers", a court has heard.
Pamela Jackson, 55, went missing from her home at Chester-le-Street in March and her body was found in May on the moors above Halifax in West Yorkshire.
She died of head injuries. Adrian Muir, 50, from Halifax, denies murder.
Newcastle Crown Court heard a carrier bag containing flowers was placed on top of the body with Muir's fingerprint on it.
Andrew Robertson QC, prosecuting, said the gesture was a "possible act of contrition" towards his girlfriend who he met on a dating site in April 2012.
Mr Muir also recorded three messages on his phone confessing to killing Ms Jackson while he was contemplating suicide, the court was told.
In the recorded messages, he claimed he loved Ms Jackson - whom he called Chrissie - but he did a "terrible thing" and said "I cannot live anymore."
He spoke into his phone on the night the prosecution say he buried Ms Jackson and said she "hurt her head" after a row.
A post-mortem examination revealed she suffered a black eye and bruised nose and lip caused by punches or heavy slaps, the prosecution said.
She also had a fractured skull, about which the prosecution said: "It is probable that this very serious injury was caused by a kick or stamp, or a weapon, or possibly falling very hard against something."
Analysis of Mr Muir's phone showed it travelled down the A1 on the evening of 3 March from Chester-le-Street, across the Pennines, to the moors where the shallow grave was later found.
Mr Robertson added the area of the grave was "bleak West Yorkshire moorland", off the B6138 and that her body was buried in a "highly professional way".
The court heard Mr Muir did not claim anyone else had used his phone, Ms Jackson's blood was discovered at her home and also in his Kia car, and soil samples found in the foot well of his car linked him to the grave site.
He was later seen on CCTV cleaning the back of his Kia in the car park of a supermarket where he had just bought wipes and fabric cleaner, Mr Robertson added.
"However, despite all that, this defendant refuses to face up to what he has done, refuses to face up publicly to the grievous crime he has committed, hence this trial," Mr Robertson said.
Related Internet Links
The BBC is not responsible for the content of external sites.