Hadrian's Wall conservation work begins in Northumberland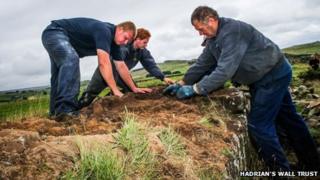 Stonemasons have begun taking apart a section of Hadrian's Wall in Northumberland as part of more than £500,000 of conservation work.
The world heritage site was granted £537,185 to conserve parts of the central section of the wall which are on the Heritage at Risk register.
Work to take apart and rebuild the wall is now being carried out at Great Chesters by the Hadrian's Wall Trust.
The trust said it needed to work hard to protect the world heritage "icon".
Work between Housesteads and Peel Crags has already been completed, with sections at Burtholme Beck and Port Carlisle next to be looked at.
'Treated differently'
Survey work began in June and the full project, which is being funded from the SITA Trust, is expected to be completed in October.
All the work is being done by hand using traditional methods.
Bryan Scott, from the Hadrian's Wall Trust, said: "Each of the sections of the wall being conserved has been treated differently over time, so our approach is different at each section.
"Hadrian's Wall is under constant pressure from the weather, from visitors, from livestock and other factors, and we need to work hard to protect and to conserve this icon of world heritage."
Hadrian's Wall Heritage is responsible for the care, protection and management of the site, from the Roman coastal defences at Ravenglass north through Whitehaven, Workington and Maryport, to Bowness-on-Solway, along Hadrian's Wall through Carlisle to Newcastle, Wallsend and South Shields.