Kielder Viaduct memories sought for history project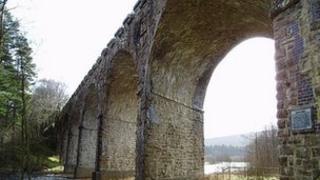 Memories are being sought for a project celebrating the history of a 19th Century viaduct in Northumberland.
The Kielder Viaduct Heritage Project was awarded £34,500 in March to create a collection celebrating the history of the listed structure.
Now volunteers want people to share their stories and photographs so others can learn more about its heritage.
The viaduct was built in 1862 to carry the Border Counties Railway over the North Tyne River.
The railway viaduct provided a vital lifeline for small rural communities, originally intended to serve the colliery at Plashetts, which is now submerged deep under the Kielder Reservoir, and other small mines in the area.
It was reopened in 2011 after being shut for more than 50 years.