Niall Quinn to be awarded the freedom of Sunderland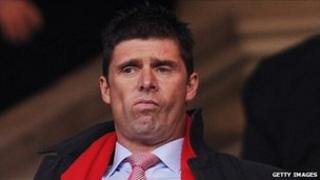 Former Sunderland footballer Niall Quinn is to be granted the freedom of the city.
Quinn, who was also the club's chairman and had a short stint as manager, will receive the honour at a ceremony in November.
Council leader Paul Watson said he had made an "outstanding contribution to Sunderland and life in our city".
Joel Batteux, the mayor of the city's twin town St Nazaire in western France, will be honoured alongside Quinn.
The 46-year-old former Irish international, donated all the proceeds from his testimonial game to charities including children's hospitals in Sunderland, Dublin and India.
After leaving his role as chairman, Quinn became the club's head of international development. He left the Stadium of Light last year.
November's ceremony will be the fourth time people have been honoured with the freedom since Sunderland gained city status in 1992.