County Durham hatchlings offer 'hope' for endangered butterfly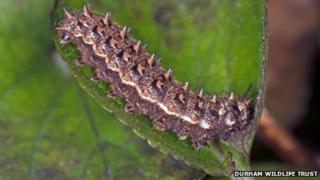 Hundreds of caterpillars have been hatched in County Durham offering "new hope" for an endangered species of butterfly, Durham Wildlife Trust said.
About 500 of the endangered small pearl-bordered fritillary butterfly hatched at the trust's nature reserve at Low Barns near Witton-le-Wear.
The hatchlings are from eggs laid in captivity in a trust project to save them from extinction in the county.
However, the trust said winter will be a "crucial period" for their survival.
They were bred from butterflies sourced from Yorkshire, where existing numbers of the small pearl are "very good", and County Durham.
It was feared many of the caterpillars would not make it through the winter after last year's wet summer, however, several survived and hatched in June, the trust said.
The trust said if "sufficient" numbers survive, they would be a step nearer to re-introducing the butterfly to sites along the River Browney.