Injured Tony 'The Fridge' Morrison 'will not stop'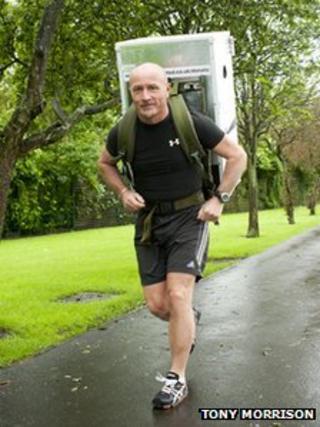 A man who has run hundreds of miles with a fridge strapped to his back said he has no plans to stop, despite his physiotherapist advising him it might be time to call it a day.
Tony "The Fridge" Morrison's list of impressive challenges includes running from John O'Groats to Land's End, followed a few days later by this year's Great North Run.
It followed running the famous half-marathon route every day for 30 consecutive days in 2012, and a claim to have run the furthest distance in 24 hours while carrying a fridge - 67.1 miles non stop around the quayside in Newcastle in April.
The exploits of the 49-year-old from Hebburn have raised thousands of pounds for charity, but he has now been advised to hang up his 6st (40kg) fridge by his physiotherapist.
It took four pairs of trainers for Mr Morrison to complete 40 half-marathon size runs during the John O'Groats to Land's End run, but he picked up a hip injury on the way.
"In the middle of the challenge my physio wanted me to stop and go to hospital, but I refused and persevered," he said.
Gavin Cree, Mr Morrison's physiotherapist, said: "It was a fridge too far, I think this challenge almost tipped him right over the edge.
"I'd ask him to stop, but whether he will stop is another matter. Tony doesn't have an off-button.
"I don't think you'll ever stop him doing challenges because he's that sort of character and he's raised an incredible amount of money for charity... but with a fridge, it might be asking too much."
After the 40 runs, Mr Morrison then took part in the annual Great North Run on Sunday.
"I thought I'll go and get as far as I can get, but people were supporting me so much all the way along... I couldn't stop.
"I went down and got up, I thought I was beaten but I wasn't because the crowd wouldn't let me. It's wonderful."
After completing the run from Newcastle to South Shields, he went to hospital for a routine MRI scan.
"I'm not permanently damaged... I couldn't walk, the femoral nerve was compressed and that does affect your walking and it was terrifying looking down at my feet and seeing them not going in the right direction."
However, he is back on his feet and has more ideas about what he wants to do next.
"I may not attempt 40 marathons in 40 days again, that was crazy," he said. "But there is talk with sponsors about running across America and I want to do the Great Wall of China, and I'd love to do Kilimanjaro.
"I am going to continue... when it's time to stop, it'll stop."