Pamela Jackson trial: Moorland body search 'enormous task'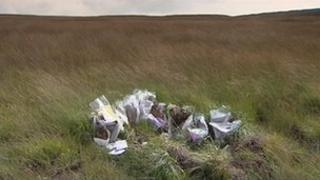 A man found guilty of the manslaughter of a County Durham woman and who buried her body in a shallow grave in West Yorkshire knew "every inch" of the area where her remains were found.
Snaking under the railway line and then up and out of Mytholmroyd is the B6318, Turvin Road.
And as the route gets steeper, it slices through the bleak Soyland Moor - the focus of one of the biggest body hunts Durham Police has ever been involved with.
Few people know this road or the moor as well as Adrian Muir.
During his trial, he told the jury he knew the surroundings well - he used to be a grouse-beater. The territory was also familiar as he was a regular fell runner.
During the hunt for his victim Pamela Jackson, officers concentrated on a 2.6m (4.1km) stretch of Turvin Road with terrain of thick grass and bogs.
They also scoured about 2m sq ft (270,000 sq m) of open land, near reservoirs.
During his three-week murder trial, the jury heard that he and his victim met through a dating website but their long-distance relationship - it's more than a 200-mile round trip from Halifax to Chester-le-Street - was a rocky one.
He claimed the last time he saw Ms Jackson alive they had rowed over botox injections and he had driven off.
'Analysed phone'
This was at her home in the Crescent, Chester-le-Street, on Saturday 2 March. Her body was found on 27 May in a shallow grave on the moors near Halifax, more than 100 miles away.
She had been missing for three months, but even without the body police were convinced Muir had killed her and he had already been charged.
Jurors were told that she had been with Muir and two of her sons at her home on that Saturday.
In the afternoon her sons left, and it is during that evening that prosecutors said Muir murdered the 55-year-old grandmother.
His silver Kia car was spotted heading south down the A1 later that night. Police analysed his iPhone to track his movements and this led officers to the moors and the body.
A post-mortem examination revealed that Ms Jackson had suffered "blunt force" head injuries.
'Gut feeling'
Det Insp Aelf Sampson, of Durham Police, took the BBC to the spot where Muir buried his victim.
No more than 230ft (70m) from a stile and milestone at the roadside, it is now marked by flowers and cards wrapped in cling film.
Det Insp Sampson said: "The main thing that led us to this vast area was phone data - this showed us where Muir had been.
"A lot of it was gut feeling, and when we searched his vehicle, we found a spade, some gloves and fresh mud."
The phone data revealed Muir had travelled from Chester-le-Street and to the moor, and police were able to pinpoint spots where he had stopped.
'Fingerprint in grave'
Durham Police decided to call on help from South Yorkshire Police, which has dogs specially trained to assist.
"We were very grateful to South Yorkshire," said Det Insp Sampson. "With their dogs, which can detect the gases given off from graves, we quickly located the grave."
Once the grave was uncovered, a damning clue was revealed, said Det Insp Sampson.
"On her body, there was a spray of carnations", she said.
"They had been placed across her torso, and a plastic bag which had Adrian Muir's fingerprint [on it] was tucked in the corner of the grave."
On the night after Pamela had disappeared, he recorded on his iPhone what sounded like a suicide note.
He is heard saying that he had rowed with her and she had hit her head. He can be heard to say: "It were a disaster - I did a terrible thing."
Det Insp Sampson said: "There was the soil evidence, fibres, phone evidence, a fingerprint in the grave and evidence of his movements.
"It all just built layers and layers of a very strong case. Maybe he had convinced himself he had not done it - who knows?"