Tyne and Wear Museums World War I project funding boost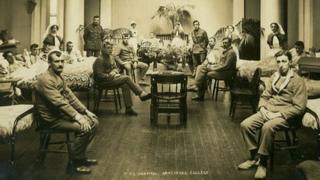 A project to give people a "fresh perspective on wartime life" has been given a funding boost.
The Home Front project by Tyne and Wear Museums will commemorate the centenary of World War I with a series of exhibitions and events.
Digital recordings will feature the memories of people whose families were affected by the war and its aftermath.
The Heritage Lottery Fund (HLF) has given initial support of £6,100 to develop the programme.
'Fantastic opportunities'
Bill Griffiths, the museum head of programmes, said: "Much of the industry of the North East contributed significantly to the war effort.
"We hope to offer a fresh perspective on wartime life in this area, and an exploration and commemoration of the sacrifices made 100 years ago, to the people who live here now."
Ivor Crowther, from the Heritage Lottery Fund, said: "The Home Front project will provide fantastic opportunities to learn about the effect the First World War had not only on those in active service but of the families, friends and loved ones left behind."
Chi Onwurah, Labour MP for Newcastle upon Tyne Central, said: "This funding will help ensure the legacy of those who lived and fought through the First World War is remembered long into the future."