Grayson Perry tapestries show in Sunderland 'a success'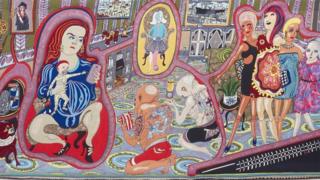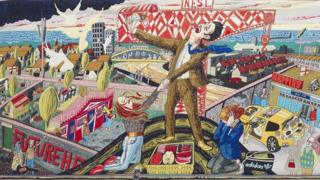 An exhibition on Wearside of tapestries by Turner-prize winning artist Grayson Perry has been hailed a success.
Sunderland Museum and Winter Garden was the first venue in a national tour of The Vanity of Small Differences show.
The three-month exhibition attracted 123,411 people to the venue, a rise of more than 30,000 compared to the same period the previous year.
Sunderland City Council said it proved the city was an "excellent location for high quality exhibitions".
The collection of six tapestries was inspired by William Hogarth's A Rake's Progress.
The works depict many of the characters and experiences Perry encountered while travelling through Sunderland, Tunbridge Wells and the Cotswolds for a Channel 4 series.
They will now go on show in Manchester, Birmingham, Liverpool and Leeds.
Councillor John Kelly, Sunderland City Council's portfolio holder for culture, said: "I was delighted that Sunderland was given the opportunity to stage such a high-profile exhibition by one of the country's leading artists.
"Looking through the comments people left, we can see we had visitors from Cornwall to Glasgow and from around the world from Thailand and Slovakia to China, Mauritius and Norway."