Port of Tyne fire: Tower blaze 'under control'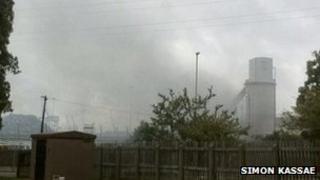 Dozens of firefighters have contained a large blaze at a tower at a port in South Shields.
Fire crews were called to reports of a fire in a conveyor transfer tower at the Port of Tyne at about 15:00 BST.
A Tyne and Wear Fire and Rescue Service spokesman said access to the fire was "difficult and dangerous" but it was now under control.
No-one was injured in the incident and the cause of the fire is under investigation, the fire service said.
The tower is used to transfer wood pellets from a storage facility to a rail loading silo.
Tyne and Wear Fire and Rescue Service group manager Keith Trotter, said: "At the peak of the fire, crews applied six cooling water jets to dampen down the fire.
"It was a particularly challenging incident and we had to re-assess how we tackled the fire due to the difficult conditions our fire crews faced."
About 50 firefighters and 12 appliances tackled the blaze.
The fire service said firefighters would remain at the site to ensure the fire does not re-ignite.