Hadrian's Wall: Stonemasons rebuild Roman wall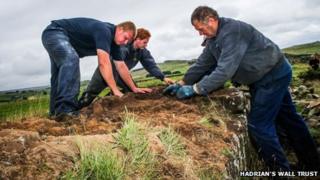 Stonemasons have begun rebuilding a section of Hadrian's Wall in Northumberland as part of conservation work costing more than £500,000.
Parts of the central section of the world heritage site are on English Heritage's heritage at risk register.
The Roman remains are now being consolidated to build a 290m (317yds) dry stone wall on top at Great Chesters.
Work will then start on a section of wall at Burtholme Beck in Cumbria.
Parts of the ancient structure are being carefully taken apart and then rebuilt to conserve parts of the wall that have been under "constant pressure" from the weather, visitors and livestock.
Coloured stones
It is hoped this work will "ultimately remove" all sections of the wall from the heritage at risk register, the Hadrian's Wall Trust said.
The restoration team were supervised by archaeologists who recorded what they found at Great Chesters.
The rebuilding work is being done by hand using traditional methods and is expected to last four weeks.
The next phase of the project will be carried out near Lanercost Priory, at Burtholme Beck, where the team will remove vegetation and uncover the wall at the site.
This work is expected to be completed in December.
Any new stones used in the conservation work will be an "obviously different" colour to make sure they are "distinct" from the Roman stones, the trust said.
Each section being repaired is being documented and GPS technology is being used to record exact locations so future generations will know exactly what has been done where.