Gateshead cycle route diverted after 'old age' collapse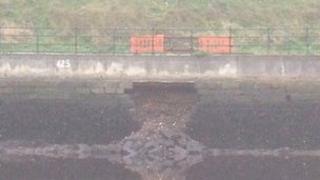 A section of a popular cycle route on the south bank of the River Tyne has been closed after a wall succumbed to "old age" and collapsed.
Cyclists using the Keelmans Way between the Redheugh Bridge and the Staiths South Bank development will be diverted on to a bus lane.
The speed limit for buses will be also lowered to ensure their safety.
Gateshead Council said specialists would be brought in to repair the subsided wall.
Paul Dowling, group director of development and enterprise, said: "The complicated and long history of the banks of the River Tyne means that we are left with retaining walls of a myriad of different techniques and dates of construction.
"This stretch has merely succumbed to old age."
The Keelmans Way forms National Cycle Network route 14, and the affected stretch is used by hundreds of cyclists and pedestrians each day.