Ferry fall survivor Jeni Anderson reunited with crew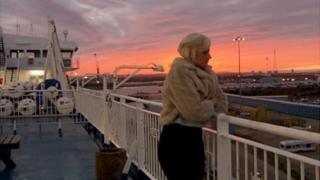 Jeni Anderson spent 30 minutes screaming and begging for help after falling from a ferry into the North Sea in September 2011, thinking she was going to die. She has now been back on board the ship to meet the people who helped to save her.
"I remember at first shouting after the ferry, asking for it to come back, and at once the sheer terror of what had happened kicked in," says Miss Anderson.
"I was getting more and more hysterical - begging it to come back and find me."
Miss Anderson, from Welwyn Garden City, Hertfordshire, had been on a DFDS ferry from Newcastle to Amsterdam when she fell 60ft (18m) overboard.
Spending about half an hour in the water screaming as the ferry left her sight, she said she thought she was going to die.
Paramedics and the onboard crew said they thought all they would find would be a "dead body", but Miss Anderson defied the odds and survived.
Now, the Northumbria University graduate has returned to the ship and has been reunited with the captain and off-duty ambulance crew from Carlisle who helped saved her.
'Never gave up'
Miss Anderson was on the ferry celebrating graduating with her three friends when the incident happened off the coast of Scarborough.
"It was dark, cold and the sea was quite rough," said Miss Anderson.
"We were just stood outside on deck talking amongst ourselves.
"We were excited, having a good time. I'd had a few drinks, but I definitely wasn't anywhere near drunk. If I was I wouldn't be sat here now, I know that for a fact.
"I just remember being near the barrier looking out to sea and looking down and I don't know whether I leaned too far or the ferry moved or there was a gust of wind, but the next thing I knew I was going over the barrier and falling from the ferry," she added.
Miss Anderson said her friends saw her flip over the barrier and fall 60ft (18m) into the sea.
"That must have been pretty horrific for them," she said.
"One of them screamed really loudly and the other one said it was one of the worst things she's ever heard."
'Mission impossible'
The captain of the ferry, Andreas Kristensen, was in his office when the signal officer announced there was a man overboard.
He said: "To be honest, when I heard it I expected that it would be extremely difficult, perhaps impossible, to find anyone in the water since it was already night-time and it was quite some sea.
"You felt a huge responsibility and urge to find her, but still you know that you are looking for that needle in a haystack. It's a mission impossible."
Mr Kristensen said within minutes of getting the signal that someone was overboard he began to turn the ship around, which took about 20 minutes, and launched the rescue lifeboat.
He also called for helicopter assistance as he knew it had infrared technology to help find Miss Anderson in the water.
"After we made the announcement there were a lot of passengers and crew members on the deck all around the ship," he said.
"She was screaming from the sea so they probably heard her before they saw her.
"We didn't expect very much so when we suddenly realised that we'd found her and we got her up then it was a great feeling.
"She had been in the boat for a couple of minutes before I had a message that she was alive.
"I think we did a high five on the bridge at that time, I don't expect I will experience that again."
A spokesman for DFDS Seaways, said it was "impossible" for any passenger standing on deck to "simply fall off".
He said: "An incident of this nature is extremely rare. In this unique set of circumstances, thanks to the quick response and action of the crew involved, Jeni was safely rescued."
'I'm going to die'
Three off-duty paramedics from the North West Ambulance Service were on board when the accident happened.
One of them, Jonathan Yeates, said: "We made ourselves available because we are medics and you wouldn't be able to sit by and not doing anything in a situation where you think you could save somebody's life.
"We... said to each other we didn't think there would be much chance of finding anybody out there.
"It was dark, there [were] waves, it's not a good environment to imagine anybody coming out of alive.
"The next thing we saw actually was the boat coming back in and to our surprise we saw a body lying in the boat pretty motionless. We actually thought it was a dead body."
The paramedics got Miss Anderson off the rescue lifeboat and rolled her on to her side so she could cough up the sea water she had swallowed.
They carried out first aid until the helicopter arrived and took her to Scarborough hospital.
Miss Anderson said: "My first memory is being above the water and seeing the ferry and it was already quite a way away.
"It was the worst feeling I've ever had in my life - just being completely alone.
"After a while I genuinely had fully got to the point where I was like, 'right that's it, I'm going to die - there's no way out of this'.
"I never gave up. I did definitely come to the realisation that my time was up, but I don't think even then I ever gave up, I was always going to try for that not to happen.
"I think about it every day. I can't possibly ever express how lucky I am."
On meeting the people who saved her - including the paramedics - Mr Yeates told Miss Anderson they just did "what we do every day".
"It's the nature of the job," he said.
"I don't think we could stand by and watch anybody in trouble and not do anything."
Miss Anderson told him: "But you didn't have to do it, you weren't on duty."
She said it was "quite emotional" meeting them.
She told the group: "I'm really not sure how I did it, but I did with the help of other people of course. Thank you so much for everything you did, thank you."
Inside Out North East & Cumbria is broadcast on Monday at 19:30 BST. It is also available nationwide for seven days after on iPlayer.