Gertrude Bell: The uncrowned Queen of the Desert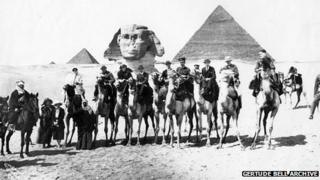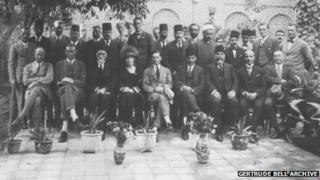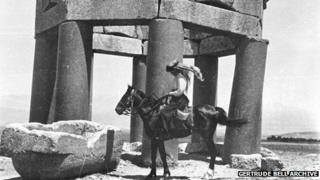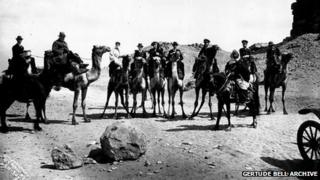 Production has begun on a film telling the story of Gertrude Bell, an archaeologist, writer and explorer who spent the early 1900s travelling alone across the Middle East.
A woman in a man's world, Bell immersed herself in the Arab culture and became an "uncrowned Queen of the Desert", according to Helen Berry, professor of British History at Newcastle University.
Born on 14 July 1868 in Washington New Hall, in what was then County Durham, Gertrude Bell was the daughter of a wealthy family of ironmasters.
After being home schooled, she went to London to be taught at the age of 15, before going on to become the first woman to gain a first-class degree in Modern History at Oxford.
Because of her sex, she was unable to graduate.
Prof Berry said that Bell had the opinion that "what applied to other women didn't apply to her".
"She thought that the fact she was a woman didn't stop her from doing anything she wanted."
'Grand ensemble'
In 1892, after leaving Oxford, Bell travelled to Tehran, in what was then Persia, to visit her uncle Sir Frank Lascelles, who was British minister to the country.
Prof Berry said it was on this visit that she developed a love for the Arab people as she visited archaeological sites, learnt their language and travelled deep into the desert.
"I couldn't do it, it was very dangerous, but obviously she liked danger," the professor said.
"I think she decided she was going to play this role as 'Queen of the Desert'.
"She surrounded herself with this grand ensemble of camels, prestigious gifts and male guides and travelled the Middle East.
"I don't think they knew what to do with her, especially being a woman, [but] I think she won them over with her ability to communicate."
A lone woman among Arab men, to many she became known as "El Khatun", the Lady of the Court.
She spoke eight languages, including French, Persian, Arabic and Turkish, and it was her knowledge of the tribes, geography and politics of the area that attracted the attention of British Intelligence.
'The kingmaker'
During World War One, she worked at the Arab Bureau in Egypt, with TE Lawrence - Lawrence of Arabia - and archaeologist David Hogarth, helping to secure British interests in the Middle East.
In 1921, she was invited by Winston Churchill, then secretary of state for the colonies, to attend a conference in Cairo, where she was asked to draw up the boundaries of Mesopotamia.
She was the only woman among about 40 delegates.
Prof Berry said Bell "liked mixing with powerful men [and] she saw herself as exceptional".
"She was influential in how the Middle East was going to be ruled and she was the kingmaker in many ways.
"She was very useful to them, she had exceptional knowledge of the Arab tribes and the very difficult power battle in the Middle East and getting the boundaries in Iraq - Churchill relied heavily on Gertrude, not Lawrence."
Later, she helped to draw up the borders of the new nation of Iraq and helped choose its first ruler, King Faisal.
In the last years of her life, she was made Honorary Director of Antiquities in Iraq and founded the Baghdad Archaeological Museum, where King Faisal ordered a wing be dedicated to her.
In a letter home in 1926, Gertrude described herself as an "antiquarian at heart" as she expressed her "pride" in opening a museum.
She died later that year, just before her 58th birthday, of a sleeping tablet overdose. It is not known if her death was accidental or if she took her own life.
Following her death, her friend Elizabeth Robins wrote that "no Englishwoman of her distinction was ever so little known to the English-speaking public".
Gertrude's legacy lives on at the Gertrude Bell Archive after her sister Lady Richmond presented 7,000 photographs and her letters and diaries to Newcastle University.
"If you put her in the context of her day, her achievements were extraordinary and quite surprising," Prof Berry said.
"She was so inspiring, so fearless and a brilliant scholar. Her legacy is her most admirable achievement."
The film, Queen of the Desert, which will see Nicole Kidman play Bell, is due to be released in 2015.