Grounded MV Danio's owner Cux Ship Management guilty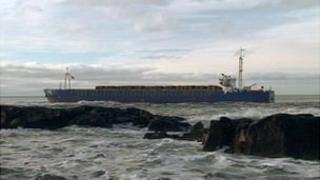 The owner of a cargo ship that ran aground on the Farne Islands after its lookout fell asleep has pleaded guilty to safety breaches.
The crew of the 262ft (80m) MV Danio remained on board two weeks, when the vessel hit rocks, last March.
German firm Cux Ship Management, admitted two safety breaches under Merchant Shipping Regulations.
Bedlington magistrates have sent the case to Newcastle Crown Court for sentencing, due on 3 March.
The firm of Cuxhaven, Germany, pleaded guilty to failing to maintain a proper look-out on board the vessel and having an alarm safety system which was not switched on.
Navigation alarm off
Prosecutor Graham Duff said the court did not feel its sentencing powers were sufficient to deal with such serious offences, which at magistrates' court separately attract a maximum fine of £5,000.
Prosecutors from the Maritime and Coastguard Agency (MCA), said the Danio had a "very basic" bridge navigational watch alarm system fitted, which should have rung to alert the crew they were approaching Longstone Lighthouse.
But it was switched off and the crew member on lookout fell asleep, leaving the Danio running for miles on autopilot using an unapproved navigation system, the court was told.
The vessel's six-man crew was stuck on board, about 3 miles (5km) from the mainland, for two weeks as bad weather postponed rescue attempts.
'Possible environmental disaster'
The ship, which was heading from Perth to Antwerp, was carrying 27 tonnes of diesel fuel and 1,500 tonnes of timber.
It was eventually re-floated and taken to the Port of Świnoujście in Poland for repairs.
The Farne Islands are home to about 80,000 pairs of seabirds and a large grey seal colony.
Prosecutor Graham Duff said: "This was an accident waiting to happen. It is perhaps fortunate that it struck the Farnes as it could have steamed onwards and collided with another vessel.
"But [having grounded] on the Farne Islands, it could have caused an environmental disaster."