Great North Passion: First shipping containers arrive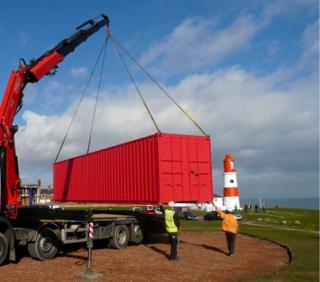 Twelve shipping containers are being placed around Tyneside for a contemporary retelling of the Easter story to be televised by the BBC.
The Great North Passion will combine an art installation and a broadcast in South Shields on Good Friday.
The 20-40ft (6-12m) steel boxes will be transformed to reflect the stations of the cross and Christ's trial and death.
Producer Heenan Bhatti said the idea came from the area's shipping history and the rivers which "gave it life".
"We want to tell the story of the Passion, but also in an innovative way, in a way that feels fresh and engages the community and artists to tell a story in a spectacular way," he said.
Passion plays depict the last moments of Jesus' life and are traditionally performed outdoors with the involvement of the local community.
'Loss, hope, faith'
The Great North Passion is being produced in partnership with the Cultural Spring, a £2m Arts Council project to get more people involved in the arts in Sunderland and South Tyneside.
It will also cover others areas of the North East with containers being put in place in 12 locations including in Northumberland, Middlesbrough, North Tyneside and Gateshead.
Cultural Spring project director Rebecca Ball said: "It gives us an opportunity to work in lots of different places and with lots of different people.
"From loss, hope, faith, love, motherhood - there's a whole range of themes that lots of different people can engage with in different ways."
The finished containers will form a crucifix in Bents Park on the South Shields coast for a live event featuring music, performances and a documentary.
The Great North Passion will be broadcast on Good Friday, 18 April on BBC One.
The event is free - application for tickets can be made online or in person at the Customs House.