Hadrian's Wall Trust axed due to 'financial constraints'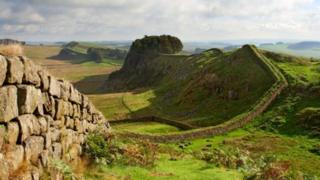 The charity that maintains Hadrian's Wall is to be axed owing to "significant financial constraints".
Hadrian's Wall Trust said the "increased pressure" of finding an extra £170,000 of public funding a year meant it was no longer sustainable.
The trust, which employs 10 people, will close over the next six months.
The monument will then be maintained by English Heritage and local authorities. A spokesman said it was "crucial" to safeguard the piece of history.
The trust was part funded by organisations including English Heritage, Natural England and eight local authorities.
'In good hands'
Each mile of the wall costs £2,800 a year to maintain.
When the budget for the maintenance of the Hadrian's Wall Path National Trail suffered a "major reduction", help was sought from the public through an "adopt-a-stone" appeal.
However, following an internal review, the trustees "reluctantly" decided that the current arrangements for the World Heritage Site were "unsustainable".
Henry Owen-John from English Heritage, said: "The most important thing for all of us is the preservation and maintenance of this hugely important historical monument.
"We are all committed to ensuring this vital monument continues to be an international success.
"Tourists, visitors, businesses and local people should rest assured that Hadrian's Wall is in good hands and that all the partners involved understand and appreciate its rich and famous heritage."
Hadrian's Wall was a Roman frontier defensive structure built in the years AD 122-30 by order of the Emperor Hadrian.
It was 73 miles long and ran from Wallsend-on-Tyne in the east to Bowness on the Solway Firth in the west.