Middlesbrough 'sports village' to include £1m velodrome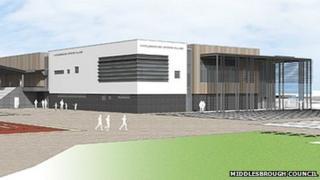 A £1m velodrome has been confirmed as a feature of Middlesbrough's new £18m "sports village".
The centre will house the 250m (800ft) Olympic-length velodrome and will also include a 400m (1,312ft) athletics track, tennis courts and a gym.
Mayor Ray Mallon said the village will be an "iconic sports destination".
Work on the complex is expected to start next month, with the velodrome completed by next spring.
The addition of a velodrome has been made possible by a partnership between Middlesbrough council and British Cycling.
Tony Hodgson, chair of British Cycling for the North East, said: "A new velodrome for aspiring track cyclists inspired by the exploits of our Olympians is tremendous news for the sport in the North East.
"The region has been without such a facility for too long, with all of our youth track development taking place far away, either in Manchester or Glasgow, at considerable cost to local people."
The construction will replace several existing sports centres and will be built on the site of an existing cycle track and skate park off the town's Marton Road.