David Kochs death: Accused used Nazi term 'SS' in web messages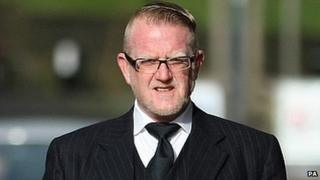 A former vet accused of killing a man during sado-masochistic sex admitted using the Nazi term "SS" in internet messages with potential partners.
Kirk Thompson, 46, denies the manslaughter of David Kochs, 43, at his Newcastle home on 2 March last year.
He told Newcastle Crown Court he did not agree with Nazi politics, but that the term referred to "strong, white, demanding" men.
Mr Kochs died from internal injuries after the pair had drug-fuelled sex.
Mr Thompson told the court he was not proud of the Nazi references and that he "identified heavily with the Jewish race".
The jury was told Mr Kochs died after receiving severe internal injuries after the two men made contact on the internet.
'Silly game'
Mr Thompson is said to have left Mr Kochs under a duvet and invited another man around for sex that same night.
He denies manslaughter, unlawful wounding and assault, but has admitted possessing crystal meth.
Giving evidence, Mr Thompson said the term "SS" was in "parlance in a section of the community", explaining "it's a silly game".
He said his best friend at Oxford University was Jewish, another close friend of 25 years was of mixed race and on visits to Poland he would visit "Jewish quarters".
He said: "I identify heavily with the Jewish race in terms of the traumas they have lived through in their life.
"In the cold light of day, it (the SS reference) is something of which I am not proud."
Earlier, Mr Thompson told the jury that after working in a senior role at the Department for Environment, Food and Rural Affairs, he left Whitehall and moved back to the North East.
In recent years he worked with the NHS in patient participation, assisted asylum seekers and refugees and worked as a vet for a pets' charity.
The trial continues.