North Tyneside 'under-used' maternity unit to close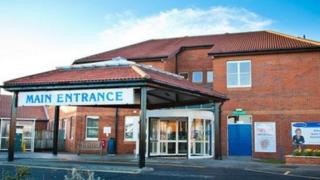 An "under-used" maternity unit on Tyneside is to close, health bosses have announced.
The midwife-led department at North Tyneside General Hospital delivers about four babies a week.
Expectant mothers will have the option of going to Newcastle's Royal Victoria Infirmary or the new "super hospital" due to open at Cramlington in 2015.
North Tyneside Clinical Commissioning Group said most women were already choosing to give birth elsewhere.
The announcement follows a review which sought the views of hundreds of women of childbearing age living across North Tyneside.
This found that while the support of midwives was valued, it was a priority to have the full team, including obstetricians, present in case of complications.
Dr Ruth Evan, from the group, said the aim was to give women the best possible care.
She added: "Women have been voting with their feet and most women in North Tyneside don't have their babies there.
"More than 90% already choose to deliver outside the area, most at the RVI, some at Wansbeck, others elsewhere."