Newcastle and Gateshead measles 'cluster' investigated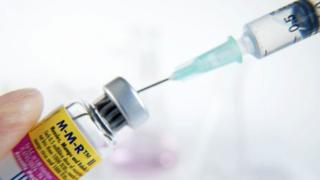 Health experts are investigating a "cluster" of six measles cases on Tyneside.
The confirmed cases are in children and adults who live or work in Gateshead and Newcastle. A number of other possible cases are being looked at.
North East Public Health said about 2,000 children aged between two and 11 in the area had not had an MMR jab and so would be at risk of measles.
There was a serious measles outbreak in the North East in early 2013.
People are being urged to ring their doctor or out of hours service if they suspect they or their children may have measles to try to limit its spread.
'Timely reminder'
Dr Tricia Cresswell, from the North East Public Health England Centre, said: "Measles can be a serious illness.
"During the measles outbreak in the North East last year, over 20% of cases were admitted to hospital.
"These recent cases are a timely reminder about the importance of making sure children are fully vaccinated against measles by having the full course of the MMR vaccination."
The first six months of 2013 saw a big increase in North East measles, with 374 cases - up from two in the same period in 2012.
Among the signs and symptoms are a fever lasting a couple of days which is followed by a cough, runny nose and sore eyes. After that a spotty rash will appear.
Dr Claire Bradford, from NHS England's Cumbria, Northumberland, Tyne and Wear area team said: "Anyone who has not had an MMR vaccination could catch measles which can be a serious illness.
"Because of this, it's really important that as many people as possible are vaccinated. You can still get protected from measles by getting immunised - even if you are over 16."